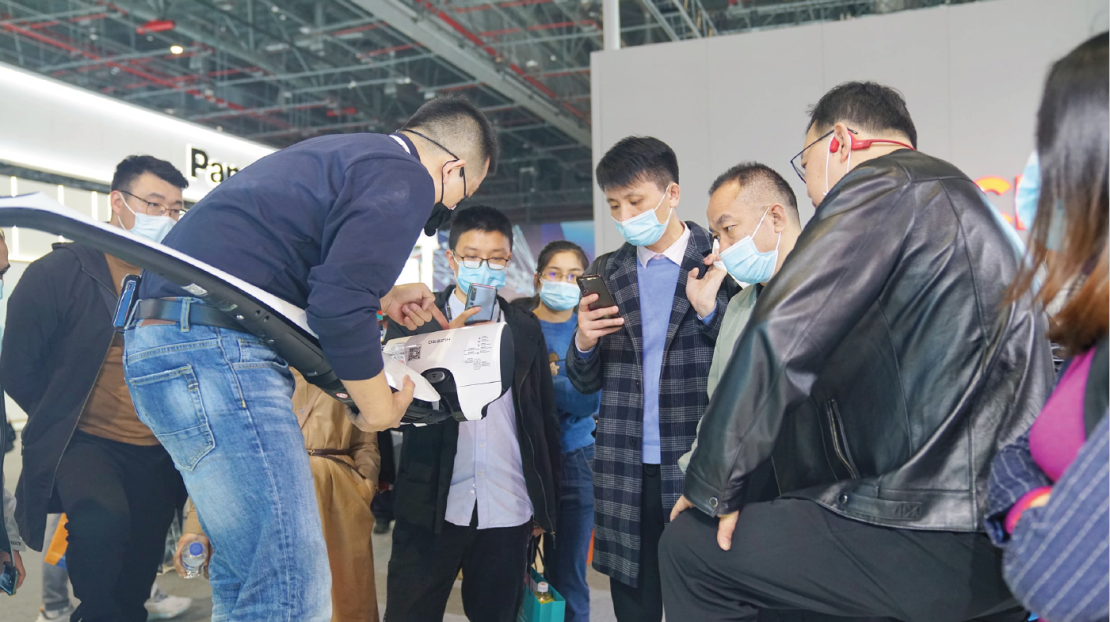 Hizero showcases latest game-changing hard floor cleaning tech at Shanghai's AWE 2021 World Expo
March 23, 2021
Hizero, a premium home appliances maker in China, today unveiled its latest revolutionary all-in-one hard floor cleaner bringing users a range of innovative life and efficiency-enhancing benefits from superior cleaning performance to silent running and enhanced user ergonomics. The new Hizero 803 floor cleaner makes its debut at the Shanghai AWE appliance trade expo that runs March 23 – 25, 2021, on booth 2A25 in Hall 2.2 at the Shanghai National Exhibition and Convention Center (NECC).
"Powerful yet lightweight, the Hizero 803 delivers consumers powerful yet gentle and versatile cleaning of liquids and solids from all hard floor types, leaving surfaces super clean and hygienic." said Hizero CEO Sam Li. Noting the new floor cleaner signals Hizero intent to position itself as a globally leading hi-tech, innovative, and premium quality homecare brand, Sam Li said Hizero's UltraClean™ tech has already won international acclaim.
Prestigious recognition includes being named the VDTA 2017 Product of the Year and winning Malaysia's HOMEDEC 2017 Innovative Product Prize. The brand is also in line for a 2021 Edison Innovation Award.
The new Hizero 803 cordless stick hard floor wet/dry hard floor cleaner harnesses Hizero UltimateClean™ technology to give consumers a contemporary, hyper-efficient, and versatile appliance that mops, sweeps, dries, and self-cleans with greater performance than competitors using traditional wet floor washing technologies.
The Hizero 803's unique polymer cleaning roller cleans floors in a whisper quiet and hygienic way that has been inspired by the way a dog uses its tongue to wipe a plate clean of both liquid and solids.
"As it sweeps across a floor, liquids and solids are drawn by a unique, patented self-cleaning bionic polymer roller before being automatically separated and then deposited in separate containers nestling in the narrow frame," Sam Li said. The all-in-one mop is easily charged using a direct plug-in cable. It will run 60 minutes on a full charge, which enables the one-liter water tank to clean 100 square meters of the hard floor before recharging is required. A smart icon notifies the user of the amount of battery power available at any moment in time. The Hizero boasts integrated smart water sensors that warn the user when the central water tank needs filling and liquid and solid waste containers need emptying.
Hizero said the new hard floor cleaner will be rolled out into key markets starting in China, Australia, Malaysia, and elsewhere from April with a retail price of around USD 699. The company will also unveil its own Hizero branded eco-friendly disinfectant liquid for global distribution.
"Hizero is planning an aggressive expansion plan geared to set up its own operational distributor organization in the USA in May followed by new dealer signings in South East Asia and Europe, including the United Kingdom, Germany, Sweden, and elsewhere." Sam Li said.
KEY FEATURES
Revolutionary Cleaning – Applying bionic science, Hizero harnesses a unique high-density polymer soft-surface roller that adapts to the floor surface material to gently and efficiently pick up waste or liquids.
Multifunctional – The Hizero 803 sweeps, mops, and dries in one efficient motion.
Automatically Waste Separation – Smart design keeps all solid and liquid waste segregated in separate no-spill containers that are easily removed for cleaning
AutoClean™ – Self-cleaning roller technology Cordless + Motorised, 60 minute run time, combined with motorized forward motion, allowing simple and easy operation
Cordless + Motorised – 60 minute run time, combined with motorized forward motion, allowing simple and easy operation.